Location
Contributing to the development of the Tamba region
Hozu River boat ride

Arashiyama
Environment surrounding ROHM MECHATECH
It just takes 20 minutes away from Kyoto-city, and an hour from Osaka by car. As well as being easily accessible from both cities, Kameoka is full of greenery and historic sites. Near the company lie the Yunohana Hot Spring, which is dubbed the inner sanctum of Kyoto; Hozu River, where tourist can enjoy boat rides on Japan's fastest river current; and the sightseeing tram, from which beautiful scenery is enjoyable in all seasons. This location is well-known for its beautiful scenery and attracts tourists from around the nation.
ROHM MECHATECH with such ideal geographic site strives to make an effort to grow with Kameoka city.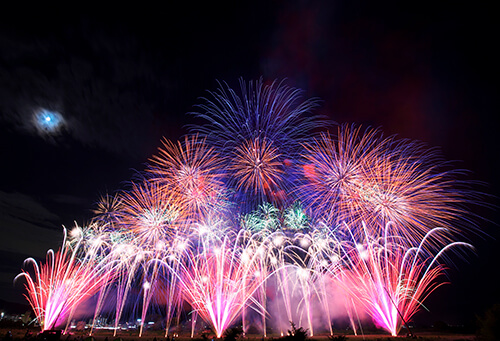 Fireworks displayed at the Kameoka Peace Festival,
portraying the summer charm of Kameoka.
Activities as a Corporate Citizen
ROHM MECHATECH values the importance of close relationship with the local community and intends to contribute to the development of the Tamba region where the company is located, through creation of jobs and participation in local events. We are supporting the local fireworks festival being held in August. Likewise, sending employees to the locally organized-fire drill training program. Moreover, performs Environmental conservation activities as a member of the community such as reduction of industrial wastes, promotion of recycling and noise insulation (soundproofing) measures for production facilities.