Achieving superior quality Tooling fabrication with high quality and technologies cultivated through ROHM semiconductor manufacturing.
Corporate Policy
ROHM MECHATECH, a member company of the ROHM Group,supports the basis of modern semiconductor-based society
ROHM MECHATECH's products are the basis of semiconductor manufacture. The ROHM Group occupies a high share in the supply of electronic devices including ICs, transistors and diodes. ROHM MECHATECH supplies Leadframes required for the production lines of these products.
Most Dies, including Molding Dies for resin encapsulation and Trimming/Forming Dies are supplied by ROHM MECHATECH.
We intend to contribute to the entire electronics industry as a behind-the-scenes player in the modern semiconductor-based society.
ROHM MECHATECH in pursuit of ever higher precision
Smartphones, tablet PCs, hybrid vehicles, and more…
We are now living in an era in which we do not spend even a single day without using electronics products of some sort.
All such products contain small chips called semiconductors.
ROHM CO., LTD. as a leading chipmaker has been supplying high quality product continually and stably.
ROHM Mechatech CO., LTD is a developer and manufacturer of Tooling and Leadframes used for semiconductor production. With extremely high-precision processing technologies that do not even allow an error of 1μm, ROHM MECHATECH satisfies the needs for increasingly complicated semiconductors. Through its development and manufacturing technologies, which are of the highest level in the industry, ROHM MECHATECH is building up the future of society with its high-precision technologies. ROHM MECHATECH contributes to society through its superfine processing technologies.
COMPANY MISSION
Quality is our top priority at all times.
Our objective is to contribute to the advancement and progress of culture through a consistent supply, under all circumstances, of high quality products in large volumes to the global market.
We shall respond customers' trust with the motto

QCDSE
Quality

(Good one) High level manufacturing technology that supports high quality
Cost

(Cost) at fair cost
Delivery

(Fast) when you need as necessary
Service

(Service) Promptly respond to customers' need
Environment

(Environment) Product manufacturing considered global environment
BASIC MANAGEMENT POLICY
Secure reasonable profit through a concerted company-wide effort for a comprehensive quality assurance program.
Develop globally leading products by improving upon technologies held by each department for continued advancement of the company.
Maintain healthy and vigorous lifestyles and refine intellect and humanitarianism, hence contributing to society.
Search extensively for capable human resources and cultivate them as cornerstones for building long-term prosperity.
BASIC QUALITY ASSURANCE POLICY
Promote internal standardization for the whole company and establish control structures for QC management by data.
Conduct comprehensive and continuous research for the development of new technologies and products.
Proactively utilize methods of statistical control for all areas of company activities.
Establish quality assurance structures for all manufacturing processes.
Exert effort for cost reductions of each product by continual modernization of manufacturing systems.
Secure quality assurance programs of raw materials and components with our suppliers through contracts.
BASIC GOALS FOR EDUCATION AND TRAINING
Develop personnel at all levels to constantly strive to obtain new knowledge and to acquire empirical reasoning ability from a broad perspective.
Train staff to be dedicated as leaders in their field by utilizing their knowledge and experience.
Develop personnel who can overcome any adversity and strive towards achieving targets.
Train staff to place the highest value on teamwork, resulting from the combined efforts of all individuals.
BASIC QUALITY ASSURANCE POLICY
All employees will use every available opportunity to enhance self-development.
Those in leadership positions will exemplify model behavior at all times.
The emphasis of education is on-the-job training led by the supervisors through daily operations. Supplementary training off the job is also provided.
Each head of all management levels will appraise staff fairly and conduct effective training programs periodically and consistently.
Appraisals for each head of all management levels is based, as a general rule, on the success of staff education and training.
Company Information
| | |
| --- | --- |
| Company name | ROHM MECHATECH CO., LTD. |
| Address | 3-6-1, Tsutta, Oi-cho, Kameoka, Kyoto 621-0011 Japan |
| TEL | +81-771-25-4717 |
| FAX | +81-771-25-4707 |
| Established | August 8, 1988 |
| Capital | 98 million yen |
| Representative | Toshiaki Kawabata, President |
| Employees | 100 |
| Products | Dies and Leadframes for semiconductor manufacture |
| Affiliated companies | |
Organization Chart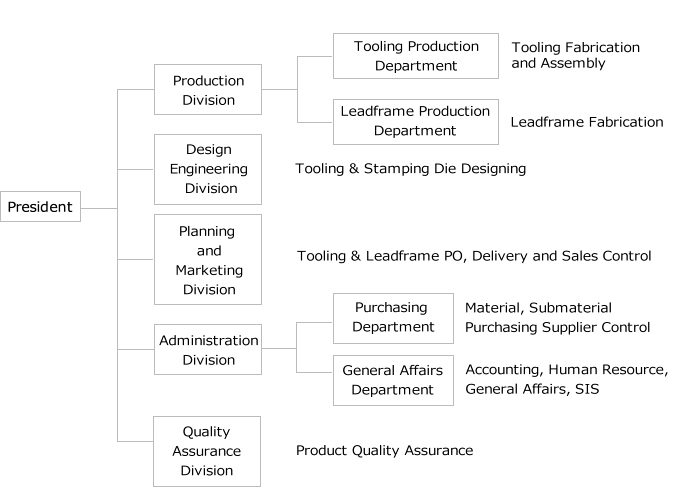 Milestone
| | |
| --- | --- |
| August 1988 | ROHM Mechatech Co., Ltd. Established |
| April 1989 | ROHM Mechatech Co., Ltd. Began Operations |
| November 1993 | ROHM Mechatech Philippines, Inc. Established |
| February 1999 | ROHM Mechatech Philippines, Inc. ISO 9001 Certified |
| November 2001 | ROHM Mechatech (Thailand) Co., Ltd. Established |
| March 2002 | ROHM Mechatech Co., Ltd. ISO 9001 Certified |
| December 2003 | ROHM Mechatech Co., Ltd. ISO 14001 Certified |
| June 2005 | ROHM Mechatech Philippines, Inc. ISO 14001 Certified |
| February 2006 | ROHM Mechatech (Thailand) Co., Ltd. ISO 9001 Certified |
| July 2006 | ROHM Mechatech (Thailand) Co., Ltd. ISO 14001 Certified |
| July 2013 | ROHM Mechatech (Thailand) Co., Ltd. Relocated to Saraburi Province |
ROHM Group
Top runner in the electronics industry ROHM Group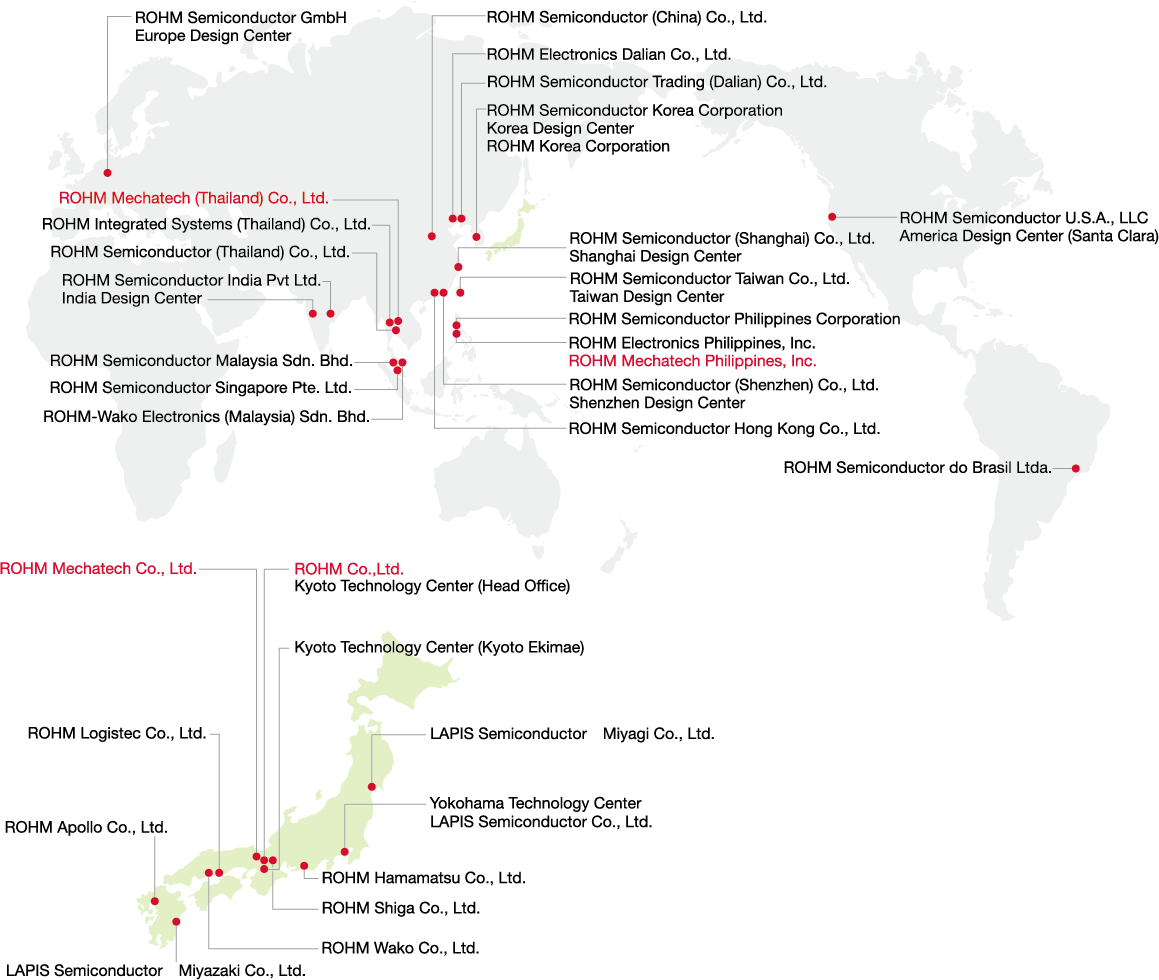 Corporate name
ROHM Co., Ltd.
Address
21 Saiin Mizosaki-cho, Ukyo-ku, Kyoto 615-8585, Japan
TEL:+81-75-311-2121 FAX:+81-75-315-0172
Established
September 17, 1958
Paid-in capital
¥86,969 million as of March 31, 2020
Employees
Consolidated 22,161 as of September 30, 2020
Director
President / Isao Matsumoto
Products
ICs, Discrete Semiconductors, Opto Semiconductors,Passive Components, Modules (Sub Systems)
Overseas Bases
Group Company
Development, Manufacturing and Distribution Centers in Japan
Development
Kyoto Technology Center (Head Office)

21, Saiin Mizosaki-cho, Ukyo-ku, Kyoto 615-8585 Japan

Kyoto Technology Center (Kyoto Ekimae)

579-32, Higashi Shiokoji-cho, Karasuma Nishi-iru, Shiokoji-dori, Shimogyo-ku, Kyoto 600-8216 Japan

Yokohama Technology Center

2-4-8, Shinyokohama, Kouhoku-ku, Yokohama 222-8575 Japan
Manufacturing
ROHM Hamamatsu Co., Ltd.

10 Sanwa-cho, Minami-ku, Hamamatsu 435-0038 Japan

ROHM Wako Co., Ltd.

100 Tomioka, Kasaoka, Okayama 714-8585 Japan

ROHM Apollo Co., Ltd.

1164-2, Hiyoshi, Hirokawa, Yame-gun, Fukuoka 834-0111 Japan

LAPIS Semiconductor Co., Ltd.

2-4-8, Shinyokohama, Kouhoku-ku, Yokohama 222-8575 Japan

ROHM Co., Ltd.(Shiga Plant)

2-8-1, Seiran, Otsu-shi, Shiga 520-0833 Japan
Distribution
ROHM Logistec Co., Ltd.

75, Masusaka, Kamogata-cho, Asakuchi, Okayama 719-0234 Japan
Leadframes/Dies Production
ROHM Mechatech Co., Ltd.

3-6-1, Tsutta, Oi-cho, Kameoka, Kyoto 621-0011 Japan
Development, and Manufacturing Centers in the World
Development
America Design Center (Santa Clara)

2323 Owen Street, Santa Clara,
CA 95054 U.S.A.

Europe Design Center

Karl-Arnold-Straβe 15, 47877
Willich Germany

Shanghai Design Center

22F, CENTRAL TOWERS, 567
Langao Road,
Shanghai 200333 China

Shenzhen Design Center

3/F, Gemdale, 2007 Shen Nan Road, Futian,Shenzhen 518000 China

Taiwan Design Center

11F No.6 Sec.3 Min Chuan E. Road,
Taipei, Taiwan

Korea Design Center

159-13, Gasan Digital 1-ro,
Geumcheon-gu,
Seoul 153-803 Korea

India Design Center

Unit 4B & 5,Level-2,Bagmane Laurel,Block B,
Bagmane Tech Park, C.V.Raman Nagar,Byrasandre,
Bangalore-560093,India

Finland Software Development Center

Kiviharjunlenkki 1E, 90220 Oulu Finland

ROHM POWERVATION Ltd.

11 Nessan House, Bessboro Road,Blackrock, Cork, Ireland
Manufacturing
ROHM Korea Corporation

159-13, Gasan Digital 1-ro,
Geumcheon-gu, Seoul 153-803 Korea

ROHM Electronics Philippines, Inc.

Block 3 and Block 5,
People's Avenue, People's Technology Complex
Special Economic Zone, Carmona,
Cavite 4116 Philippines

ROHM Integrated Systems(Thailand) Co., Ltd.

101/94, 102 Navanakorn
Industrial Zone, Moo 20, 
Phaholyothin Road, Tambol
Khlong-Nueng,
Amphur Khlong-Luong,
Pathumthani 12120 Thailand

ROHM Semiconductor (China)Co., Ltd.

No.7, Weisan Road,
Micro-Electronic Industrial Park,
Jingang Highway, Xiqing District,
Tianjin 300385 China

ROHM Electronics Dalian Co., Ltd.

No.20 NorthEast Forth Street,
Economic & Technical
Development Zone,
Dalian 116600 China

ROHM-Wako Electronics(Malaysia) Sdn. Bhd.

Lot 1320, Kawasan Perindustrian,
Pengkalan Chepa Ⅱ, Padang
Tembak,
16100 Kota Bharu, Kelantan,
Malaysia

Kionix, Inc.

36 Thornwood Drive, Ithaca, NY 14850 U.S.A.

SiCrystal AG

Thurn-und-Taxis-Strasse 20 90411 Nuremberg Germany
Leadframes/Dies Production
ROHM Mechatech Philippines, Inc.

Block 5, Lot 4 and 5,
Complex Avenue,
People's Technology Complex
Special Economic Zone,
Carmona, Cavite 4116 Philippines

ROHM Mechatech (Thailand) Co., Ltd.

188 Moo7, WHA Saraburi Industrial Land – WHA SIL, Nongplamor Subdistrict, Nongkhae District, Saraburi 18140 Thailand
CSR
Corporate Social Responsibility
CSR Policy and ISO 26000 Initiatives
The ROHM Group implements global CSR management based on the core subjects of ISO 26000. As a member of a group, ROHM MECHATECH is engaged in a variety of activities, from efforts to improve quality and maintain a safe, comfortable work environment to community involvement, organizational governance, and environmental protection initiatives.
Organizational Governance

Enacting basic CSR policy

Improving awareness through a CSR guidebook and CSR month initiatives
CSR promotion committee activities

Fair Business Practices

ROHM Group action guidelines

Legal guidebook

Human Rights and Labor Practices

Non-use of conflict materials

Sponsored social bowling outings

ROHM Mechatech Philippines bowling tournament participants

Community Participation and Development

Local cleanup activities

Fireworks shows

Volunteers in the Hozu River cleanup activity

Consumer Issues

Environmental Conservation

ISO 14001 certification

ROHM Mechatech Environmental Policy

ROHM's everlasting conscientiousness to preserve the global environment contributes to the healthy existence of humanity and to the continued prosperity of the company.

Conserve energy by initiating innovative methods in all corporate activities.
Develop environmentally-conscious products that minimize the environmental burden by employing responsible processes throughout the life cycle of each product.
Give priority to the procurement of materials and products that have the least levels of adverse impact on the environment.
Promote effective utilization of resources and strive for the prevention of pollution and conservation of biodiversity toward the realization of a sustainable society.
Comply with international and national environmental laws and regional agreements and other customer requirements to which we have agreed.
Endeavor to train employees and encourage our constituents to actively care for their surroundings and the global environment.
Develop positive relationships with the community through contributions to the local environment and the proper disclosure of environmental data.
Continuously improve subjects by creating and carrying out the environmental objectives,and their action plans to enhance environmental performance.

Occupational Health & Safety Policy

ISO 45001 certification

ROHM Mechatech Occupational Health & Safety Policy

In accordance with the CSR policy, ROHM Group consider safety and health the top priority in our business activities, thereby proactively work to comfortable work environment without worries as well as preserve and promote our physical and mental health.

We comply with health and safety laws and their related regulations, other requirements, and our company's rules.
We prevent occupational accidents by implementing managerial measures based on the identification of hazard sources in our workplace and their severity via risk assessment.
We pursue highly-ranked awareness by systematic education, training, and other things concerning health and safety. Additionally we strive to prevent injuries, physical and mental illnesses by promoting the creation of a comfortable workplace through energized, voluntary activities.
We design and operate the occupational health and safety management system through consultation with our workers and their involvement in decision-making.
We carry out continuous improvement activities with full participation by setting the health and safety objectives and the action plan that are supported with adequate resources.
ROHM Group Basic CSR Policies
The ROHM Group actively contributes to the sustainable development of society and conducts business practices in good faith from a global perspective in accordance with our corporate objectives and business policies. In addition, we are constantly striving towards sustainable business development, earning the trust of local communities, and establishing a good relationship with our stakeholders.
Customers
We will strive to earn the trust and satisfaction of our customers through the timely and stable supply of high quality, high performance products.
We will also endeavor to always respond in good faith, make product safety a priority, and appropriately disclose relevant information.
Business Partners
The ROHM Group selects business partners through fair and reasonable standards and values the relationships of trust with business partners by implementing fair and equitable trade, with a goal towards mutual prosperity.
Employees
In addition to providing a safe, comfortable work environment, we respect the individuality and character of each employee and are committed to ensuring job fulfillment and satisfaction by fostering a nurturing, productive workplace.
Shareholders and Investors
We will work to improve ongoing corporate value and secure reasonable profits in order to provide a return to our shareholders and investors and ensure accountability through a wide range of IR activities.
Communities and Regions
The ROHM Group engages in practices and initiatives (i.e. social contributions, cultural and artistic activities), respects the customs of each culture, and seeks to deepen exchanges with countries and local communities. We are also actively involved in regional environmental conservation activities through our many business endeavors.